You know my usual Grinch stuff, last post for 2022. Here are my words:
All the best for 2023. Happy Holidays to all my families. By now, all applications, financial aid and other paperwork should be completed. Enjoy the festivities of the season, but rest assured that 2023 comes with all the news...Versan has to be kept abreast of all news and changes....
The holiday schedule is December 23, we close at 2;30. We reopen on the 28th at 9 a.m. We are open till 2 pm on the 31st of December. And we are closed till January 3, 2023.
2023 calendars are available in the office for your parents to retrieve one...
I am the official Grinch of Kingston...I will not be smiling until I see all acceptances next year.
Love you all the best! To the crew in Mobay, good tidings, to our teachers here, see you all safely in 2023.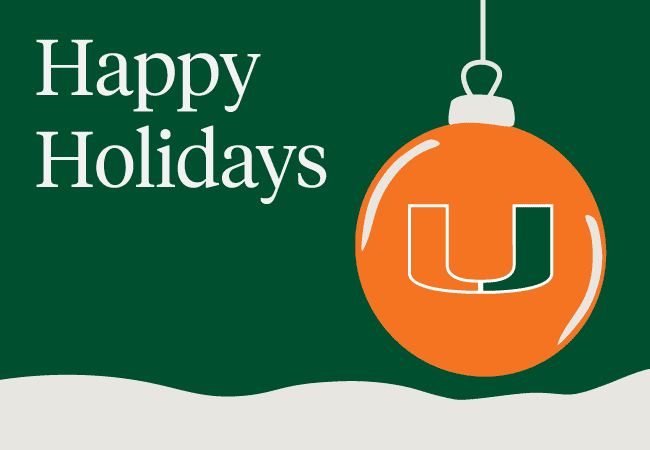 Sandra,
As we approach the end of the year, we want to thank you for your support in 2022! We're excited to strengthen our partnership in 2023 and continue being a resource for both you and your students. Wishing you a restful holiday season and looking forward to connecting in the new year to help assist your students on their path toward college. Sincerely, Office of Undergraduate Admission admission.miami.edu
Happy Holidays from Carnegie Mellon!
Dear Sandra, Greetings from Carnegie Mellon University! As we approach the end of the year, the Office of Admission wants to wish you a happy and healthy holiday season. We hope your students aren't too overwhelmed with applications, and that this mailing can help abate any questions about upcoming deadlines or expected materials. We also wanted to take this moment to thank you again for all of the work you have done this year. Our office is grateful for the partnership we've established, and wished to take this moment to share our gratitude. Fall Travel Highlights Our staff visited 444 high schools during our travel season this fall! We enjoyed connecting individually with students who held interests ranging from Costume Design (Bridget in Washington, DC) to Machine Learning (Lauren in Charlotte, North Carolina). We also enjoyed getting to visit so many wonderful regions across the country! Here's some highlights of our travels: Lauren and Maria tried authentic Carolina BBQ in Raleigh, North Carolina. Bridget strolled the National Portrait Gallery following a day of high school visits in Washington, D.C. Jordan enjoyed a meal at Rosalina in downtown Providence, Rhode Island. Alaire and Drucella wandered and shopped at Santa Monica Pier in Los Angeles, California. Luigino appreciated several restaurants serving Caribbean food in Miami, Florida. We'll be hitting the road again in June, please feel free to reach out if there's any must-sees in your area for our next round of trips!
Upcoming Deadlines
Keep in mind as your students prepare for upcoming deadlines:
Our application deadline is fast approaching on Tuesday, January 3.

Seniors will have two plans available to them on that date: Early Decision 2 or Regular Decision.

Test-Optional for Fall 2023: Carnegie Mellon will remain test-optional for first-year students applying for Fall 2023.

Once your students have submitted their applications, they will be able to register for their Where Am I in the Process? portal which will allow them to track their application and admission status.

If you have any eager juniors who may be ready to start college in Fall 2023, they may apply using our Early Admission plan. This is a specialized process for a select number of juniors each year who are ready to begin college a year early.
For more information, check out our Fall 2023 Admission FAQ.
Financial Aid
We're committed to making a Carnegie Mellon education attainable for students from all financial backgrounds through our financial aid program. We meet the demonstrated need of all admitted U.S. citizens, permanent residents and Deferred Action for Childhood Arrival (DACA) students. Important financial aid dates and deadlines for the upcoming academic year include:
The 2023-2024 FAFSA and CSS Profile are now open.

January 3, 2023 is the financial aid deadline for Early Decision 2 applicants.

February 15, 2023 is the financial aid deadline for Regular Decision applicants.
Our Net Price Calculator allows prospective students and their families to estimate financial aid eligibility. While not a guarantee of financial aid, the Net Price Calculator is a great tool to begin financial planning for college. Students can check out our Net Price Calculator tutorial for helpful tips. We recently hosted an online information session about understanding financial aid and accessing aid at Carnegie Mellon. Students can find a recording of that session here.
Have a happy and healthy holiday season, from all of us in the Office of Admission at Carnegie Mellon. We are looking forward to reading your students' stellar applications in the new year! If you have questions about the admission and financial aid process ahead of the deadline, please feel free to email, call or chat during normal business hours. While Carnegie Mellon will be closed December 23 - January 2 for Winter Break, we'll be available via email, phone or chat for limited hours December 27 - 29. You can also reach out directly to any of our staff for answers to your questions. Best regards, Office of Admission
Dear Sandra, Do you know families curious about Santa Catalina? Please invite them to learn more at our in-person and virtual events in January. You can help us spread the word by sharing the event with your friends, colleagues and neighbors; posting on social media; or forwarding this email. Events include: Truly Together: Admission Open House (In-person) Sunday, January 15, 10:30 - 1:30 p.m. Catalina is where you explore the true you as a thinker, creator, explorer, and friend. Come visit our beautiful campus, meet our community, learn about our academic and co-curricular programs, and picture yourself here! Register today! Following Open House, stick around for Catalina's production of Agatha Christie's Murder on the Orient Express (2:00 - 4:00 pm). Register via the Truly Together link at the bottom of this email or contact us at admission@santacatalina.org or 831.655.9356.
Ken Ludwig's clever adaptation of the Agatha Christie classic boasts all the glamour, intrigue, and suspense of Dame Agatha's celebrated novel, with a healthy dose of humor to quicken the pace. Just after midnight, a snowdrift stops the Orient Express in its tracks. The luxurious train is surprisingly full for the time of the year, but by the morning it is one passenger fewer. An American tycoon lies dead in his compartment, stabbed eight times, his door locked from the inside. Isolated and with a killer in their midst, the passengers rely on detective Hercule Poirot to identify the murderer—in case he or she decides to strike again.
Truly Insightful: Student-led Tour (virtual) Thursday, January 19, 6:30 - 7:30 p.m. Come discover the true Catalina experience through the eyes of our students. Take a personalized virtual tour of campus to picture a day in the life at Catalina and see what is truly possible! For those applying for fall 2023-2024, this will complete your application tour requirement (parent and student must attend). Register today! Do you have questions or want more information? Call 831.655.9356 or email admission@santacatalina.org. We can't wait to see you! Sincerely, Santa Catalina School
Greetings!
From our high-tech STEM lab where you can easily visualize the world's next great innovation to our unique art studios where students are making their next masterpiece, our small, inclusive campus provides our students with the opportunity to unlock and maximize their potential. Can't come to our Long Island, New York campus for a tour? That's fine. Knox has an interactive virtual tour that takes you through the hallways and classrooms of our academic buildings, dorms, dining halls, and athletics facilities. It's the next best thing to joining us in person.
On your tour, don't forget to click on our waterfront to see the Stony Brook Harbor where our Crew team launches boats directly from our campus. Also, make sure to get a glimpse of our historic equestrian center that offers 18 horse stalls, and a state-of-the-art riding ring designed by industry leaders. Your journey begins today at Long Island's oldest established private school.
Dear Colleague,
Karnell and I are back for Part 2 and bringing the fun as we explore the Portland Farmers Market and prove the strong overlap between Reedie and foodie.
As Karnell puts it, "This is the perfect, perfect day to try some stuff." This time around, we sample everything from coastal seaweed to chimichurri. Watch for the food—stay for the ferret cameo.
Did you miss what happened in the first half? Catch up on Part 1 and then keep on going when you check out the full Roaming Reedies playlist.
I hope you'll encourage your students to learn more about our community—and hone their college search and application skills—by joining one of our upcoming events. They can reach out to us at admission@reed.edu if they have any questions about what life is like at Reed.
Warmly,
Milyon Trulove
Vice President and Dean of Admission & Financial Aid